︎



Monotypes/
The Peregrine (northern sky)*



unique monotypes, acrylic and ink on paper, 10.5 x 15 cm

contact me for further details and to purchase:

email: brionyanderson@gmail.com | instagram: @briony.anderson
'Evanescent as flame, peregrines sear across the cold sky and are gone, leaving no sign in the blue haze above.'
(October 7th) – J.A Baker, The Peregrine (1967)
October 30th (1&2)
The east wind drove drenching grey and silver showers through the frozen cider sky.
April 2nd (1&2)
Spring evening; the air mild, without edges / Spring dusk
December 23rd (1&2)
Bright frosty day, fading from brightness slowly, hour by hour.

October 26th (1&2)
The field was silent, misty, furtive with movement. A cold wind layered the sky with cloud.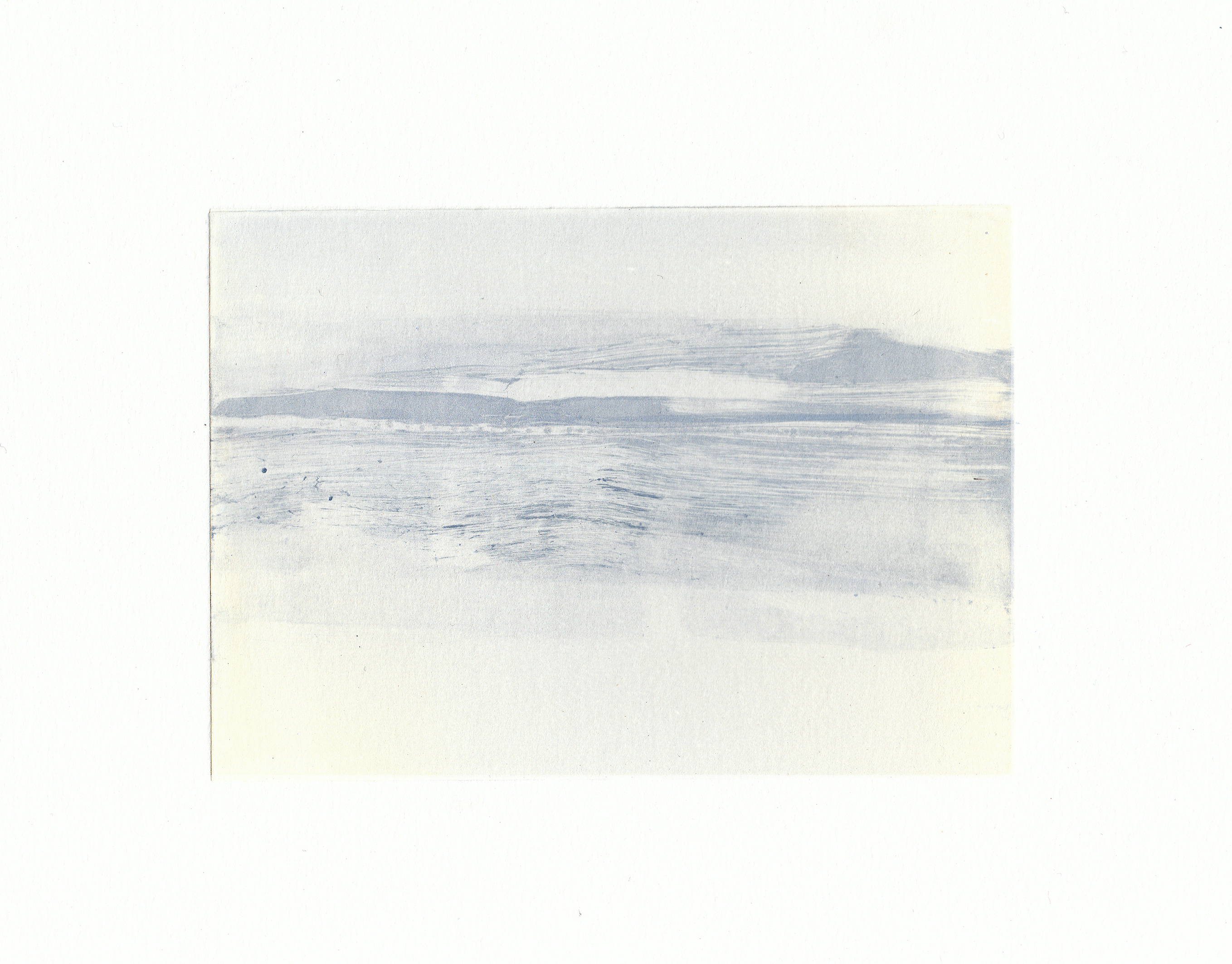 October 18th (1&2)
The valley a damp cocoon of mist; rain drifiting through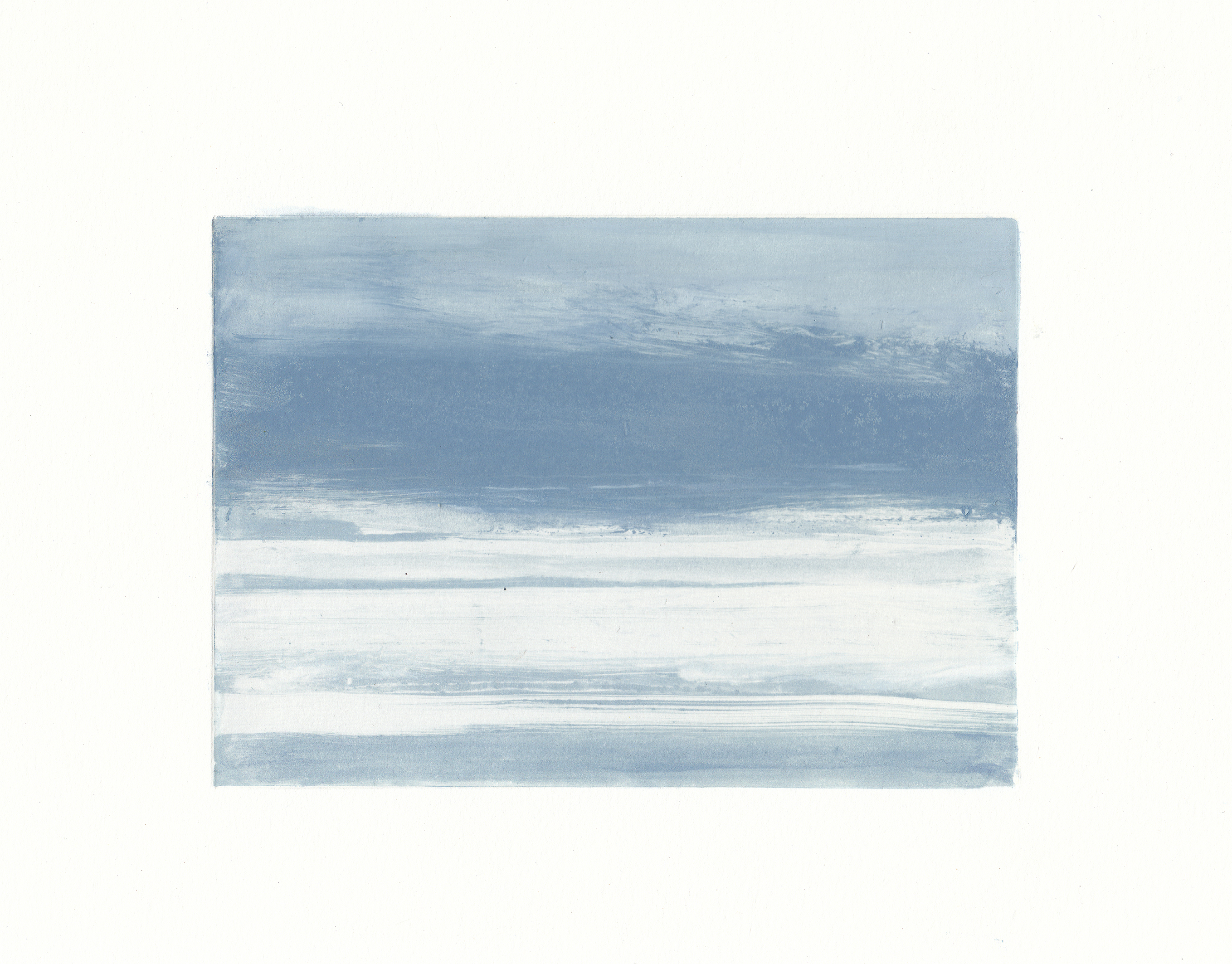 March 30th (1&2)
Rain fell till two o'clock, followed by showers and mist and watery sunlight.
October 24th (1&2)
The quiet sky brimmed with cloud, the air was cool and calm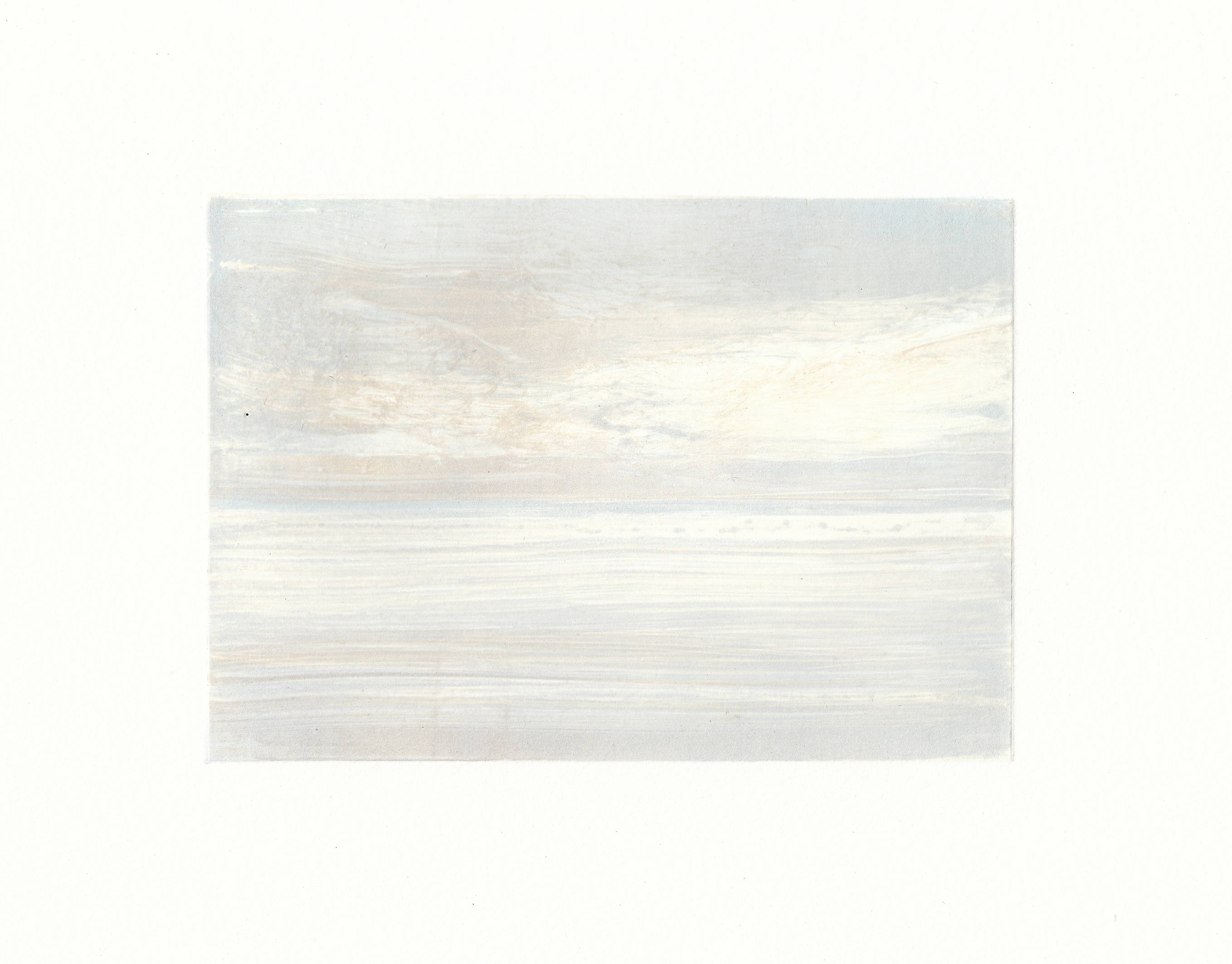 November 11th (1&2)
Wisps of sunlight in a bleak of cloud
March 14th (1&2)
the water dwindled out in shallows of shining silver-blue. Widening strands of mud gleaned yellow in the sun.
November 2nd (1&2)
The whole land shone golden-yellow, bronze, and rusty-red, gleamed water-clear, submerged in brine of autumn light /
The north wind grew, towering over a cold sky, shedding bleak light, hardening the edges of the hills. Rain drifted across the estuary, and islands stood black on striped and silver water.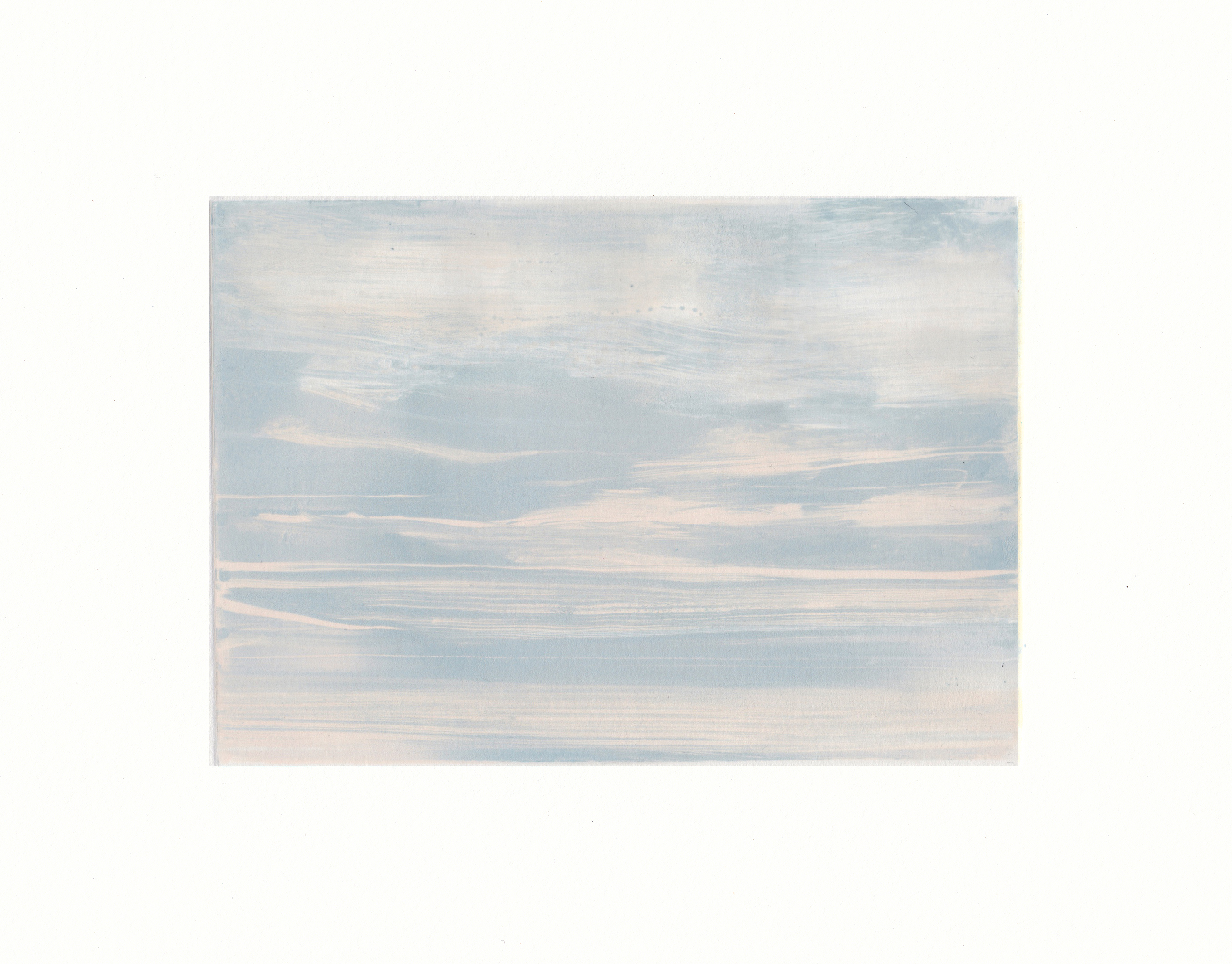 November 18th (1&2)
The water was pale grey and white under high cloud. It became seamed and veined with blue as the sky cleared and the sun came out.
March 28th (1&2)
All day the south-west wind rose. The warm, sun-lit air of morning towered away to clouds.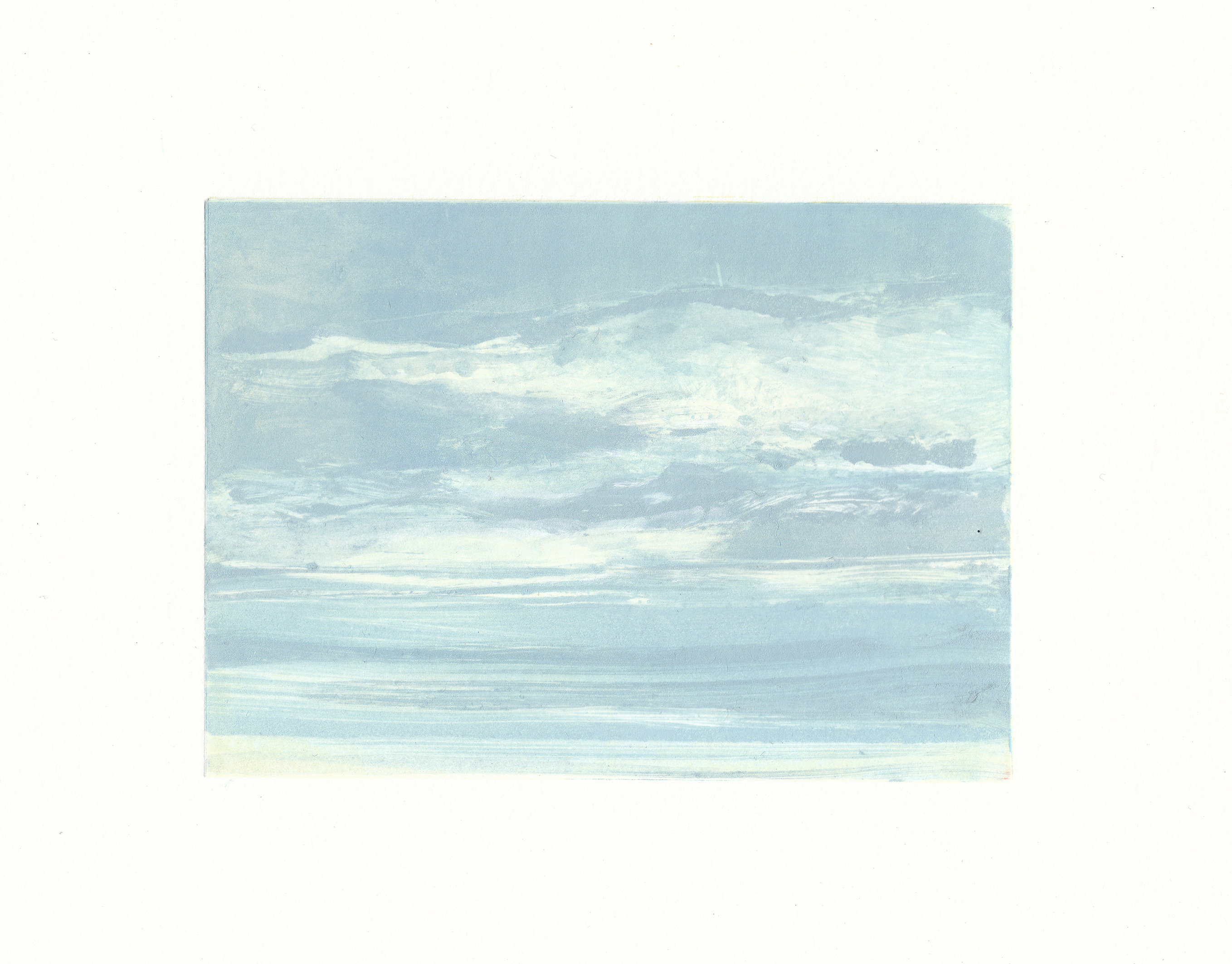 October 14th (1&2)
calm under high cloud, mild, with patches of distant sunlight cicrcling round and rafters of blue sky crumbling into mist.
October 3rd (1&2)
Inland stagnant under fog. On the coast: hot sun and cooling breeze, the North Sea flat and shining... White beaches under haze.
November 21st (1&2)
The days are cloudless now. The cold eastwind is a blaze of lances, the sun warm and brilliant in wide skies.
March 27th (1&2)
Day ended with moonlight on the water.
This series of monotypes takes as its starting point 'The Peregrine' by J.A. Baker (published 1967). Over a single winter, October to April, 'The Peregrine' tracks two pairs of peregrines across coastal Essex at a time when the author feared for their survival. The monotypes imagine these 400 miles of tidal coast: edges of the world where land and water meet, which although only 50 miles from London, is made to seem uninhabited and remote. 'There is so much more sky than land.'* The series comprises 86 unique monotypes, each pair corresponding to a diary entry.


*J.A Baker, The Peregrine, The New York review of Books, (1967) 2005, p.44